Description
RENO'S TRIPLE PLAY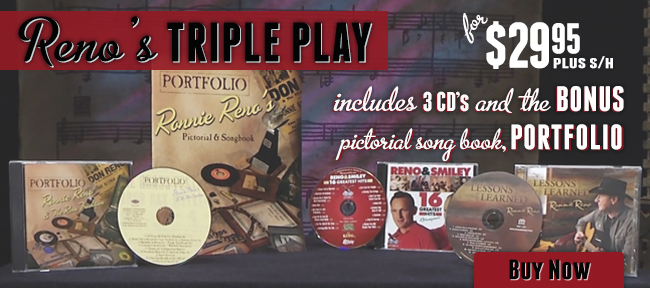 Here's the exclusive TV offer from Ronnie Reno. RENO'S OLD TIME MUSIC is proud to present this exclusive 3 CD package which features RONNIE RENO'S new CD release LESSONS LEARNED.
You will receive 3 CD's; LESSONS LEARNED, 16 GREATEST HITS by RENO & SMILEY and Reno's retrospective PORTFOLIO CD. And if you act now you will receive the bonus PORTFOLIO pictorial & songbook all for only $29.95.
This amazing offer has over 40 songs including "Boogie Grass Band" the popular "Lower Than Lonesome"… and the instrumental sensation "Reno's Mando Magic". Grab this special package while they last!